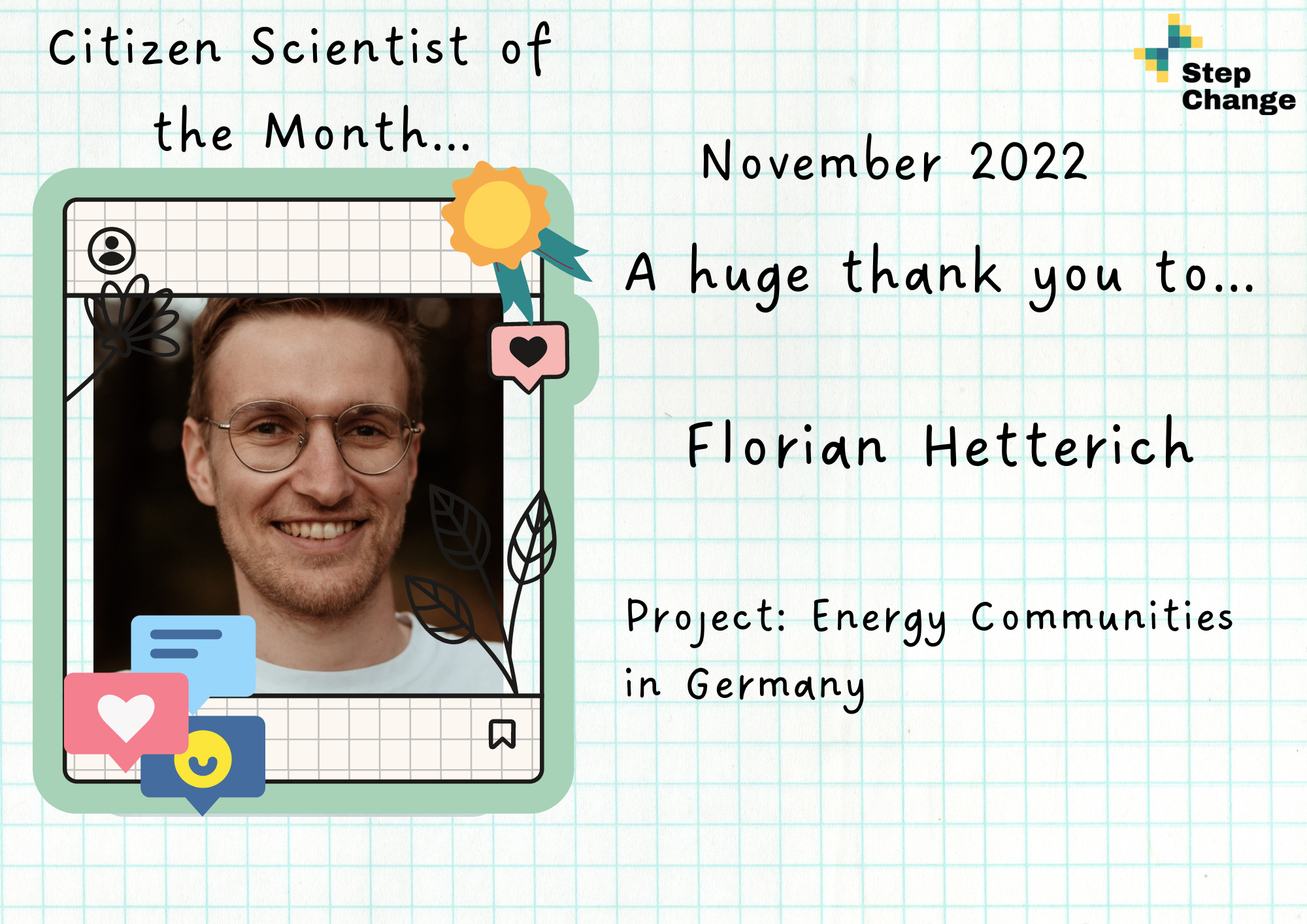 Our Citizen Scientists are the backbone of the StepChange project and without them, none of our work would be possible, and we want to shout from the rooftops about the great work they are doing!
So November's Citizen Scientist of the month is Florian Hetterich, who works with our team at the Women Engage for a Common Future WECF .

A little more about Florian …
Where am I from: I'm from Germany, living close to Munich
Role within the CSI:

My Main role is the one as a participant in the study, but I also supported the Project crew in creating the questionnaire.

Areas of interest:

Reading, Sports and Ecology.

My science role model:

Albert Einstein.

My biggest dream:

Seeing my children grow up well.

My favourite recipe:

Bread dumplings with creamy mushroom sauce.
Why did you decide to take part in the initiative on Energy Community in Germany?
"I am a person who has an affinity for numbers and who places great value on ​​environmental protection issues.
Since we receive tenant electricity ourselves, I would like to know more about this topic and help society to solve problems that may arise."
What did you know about Citizen Science before you started working for StepChange?
"I didn´t know anything about Citizen Science before. So, this is a great opportunity for me to involve in such an innovative format."
Would you participate again in such an initiative, and if so why?
"Yes, I would definitely participate in such an initiative again. I find it very interesting to contribute to research with help of this format and shape a part of our future.
Also, I learned a lot during the current participation and broadened my knowledge of this research format and of course of tenant electricity."
A huge thank you again to Florian Hetterich for sharing their story with the StepChange project, and for the great work he is doing to help us support energy communities in Germany!
Check-in with us in November for our next Citizen Scientist of the Month, where we will be hearing from our Slovenian partners from the University of Primoka and how they are using community groups to help local conservation efforts.
Do you want to take part in the project as a citizen scientist and join our German Citizen Science Initiative? Or if you would like to learn more about the project, do not hesitate to reach out to us and send us a message via the form below. A member of our research team will get in touch with you. Or click here for more information.