Step Change teams up with our friends from Impetus 4 CS to share with the science communication and public engagement community the potential of citizen science in research, and approaches to help demonstrate this value to potential funders, at this year's EUSEA23 conference.
Every journey starts with a first step, and on May the first, our communication and dissemination officer, Chris Styles, left the UK and made his way to the beautiful city of Bolzano, nested in South Tyrol in the Italian Alps, for the EUSEA23 conference- Pathfinders on a Mission.
Joined by researchers, project coordinators, policymakers, and many others from the science engagement and research community within Europe and beyond, this was a fantastic opportunity to learn a little more from our colleagues and friends, but to also share the work being done by Step Change, and the progresses being made in the fields of Citizen Science.
Citizen Science has the potential to change the way that researchers approach science and innovation in drastic ways. By allowing stakeholders from within the quadruple helix (Government, Universities, Industry, and Civil society) to help drive research, and play an active role in research that directly affects their everyday lives. Citizen Science practices are also not limited to a single discipline of science, in fact, it combines many fields of research, using a transdisciplinary approach to research. However, with this flexibility comes some complexity in how to pitch your project and how to approach a variety of potential funders or stakeholders.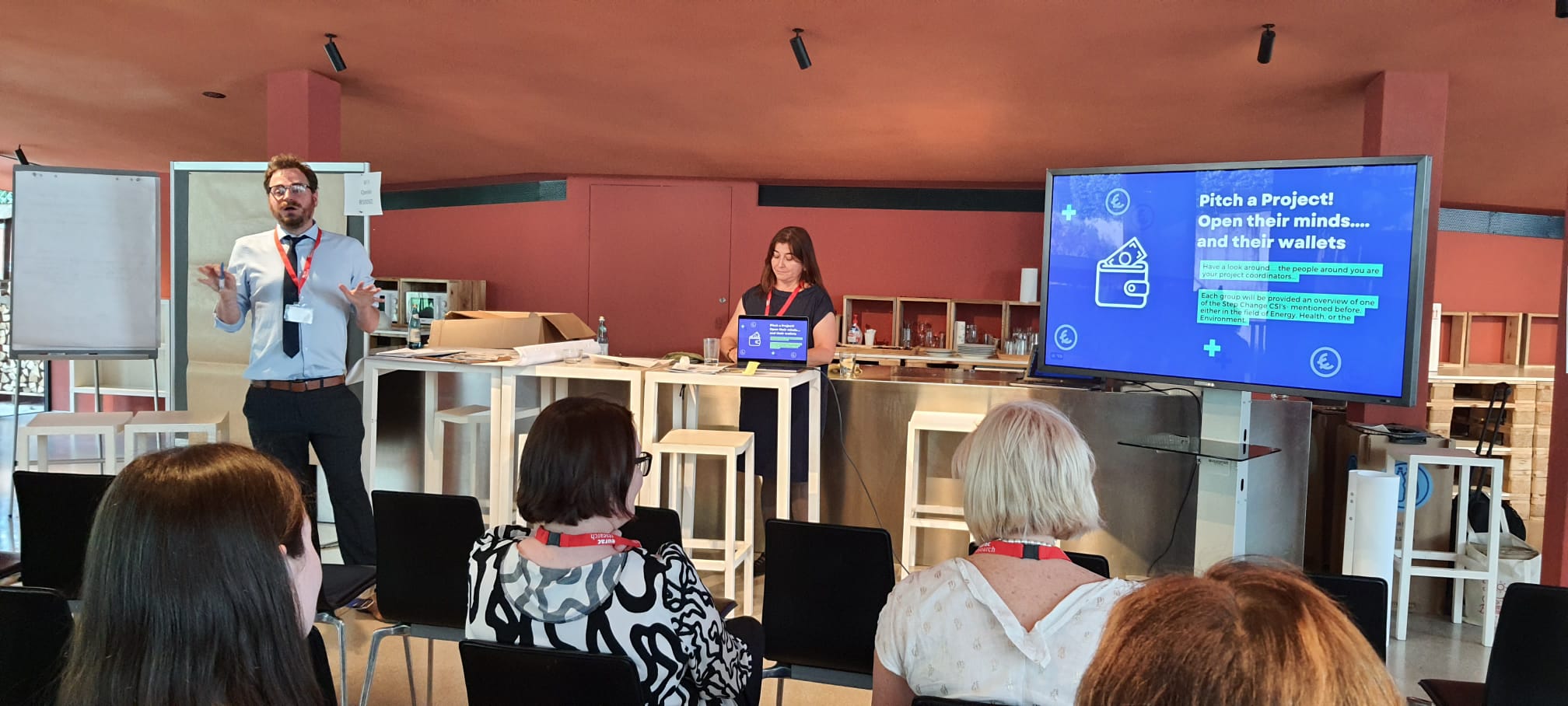 However, we at Step Change used this as an opportunity to help us encourage Knowledge Sharing and Mutual Learning within the community. Chris Styles was joined by Andrea Troncoso, a colleague at EUSEA and part of the team at Impetus 4CS, an EU project that provides citizen science projects support, funding, and increased recognition, hosting a workshop: Open their minds, open their hearts, open their checkbooks: Convincing stakeholders to fund citizen science.
Chris and Andrea were joined by 21 participants, with a variety of experiences in citizen science, EU projects, and applying for funding, who shared their thoughts, comments, and issues they have faced when communicating citizen science and research to external stakeholders and potential funders.
Chris also used this opportunity to talk about the potential scope of citizen science in research, discussing just how Step Change is using these practices in a variety of CSIs that focus on health, energy, and the environment.
Andrea and Chris then also spoke about the importance of connecting with stakeholders from across the quadruple helix, creating a narrative to recontextualise the work you are doing, as well as highlighting the benefits of inclusion.
The audience was then set a challenge, using the Step Change CSI's on Wildlife Conservation in Slovenia, Pandemic Preparedness in Italy, and Off-Grid Renewable Energy in Agriculture in Uganda as case studies, they needed to create a 3-minute pitch to present a "panel of potential funders", inspired by the popular TV show "Dragon's Den".
After each pitch, the panel asked questions to the participants about how the funds would be used, how citizen science practices would be utilised, as well as how this benefit the communities and stakeholders involved. This was a very insightful look at how those from varied backgrounds perceived citizen science, and how they would approach communicating these ideas to other stakeholders and funding bodies.  And although Chris and Andrea were planning on picking a specific team to be awarded the "funds", however, each of the three teams did so well, that it was impossible just to pick one!
Some of the resources shared during this workshop can be viewed here, to help you communicate Citizen Science to stakeholders and funders in the future.
It was great to see Citizen Science featured so very heavily at this year's EUSEA23 conference, with further workshops and presentations on:
This was a fantastic opportunity to learn and share the experiences of practicing citizen scientists, researchers, open science advocates, and science communicators, and we would like to thank the team at EUSEA and EURAC research, for hosting and organising such a fantastic conference.