The Centre for Social Innovation (ZSI) is a trans-disciplinary, non-for-profit, social science research institute, offering analyses and concepts for promoting and implementing social innovation in its thematically focused areas from a transdisciplinary perspective. ZSI is the leading partner in charge of mutual learning and training activities, namely with a focus on supporting the research activities carried out in the Citizen Science Initiatives (CSIs) by strengthening the CSI teams when it comes to trans-disciplinary work and responsive stakeholders' engagement. In the framework of the Step Change project, ZSI has developed a series of trainings which are currently under review to make them available as open educational resources for other projects. Carmen Siller, Project Manager at ZSI, is an expert on project management, looking back on 20 years of experience. She joined ZSI in 2005, since when she managed and partly coordinated a number of projects on different topics, such as citizen science, migrant entrepreneurship, learning under pandemic circumstances, gender equality and others. In the various projects she was involved in in the last two decades, she acquired profound expertise in communication, training methodology and stakeholder management.
You have extensive experience in developing training formats for different audiences. Building on your expertise, which formats would be the most suitable to support Citizen Science projects?
Interactivity is one of the keys. Centre for Social Innovation was indeed involved in a variety of different projects with responsibilities for training diverse audiences. The more complex a content, the more interactivity is needed. When the group is quite heterogeneous and/or you do not really know what kind of prior knowledge the individual participants have – as will usually be the case in citizen science initiatives –, one should start with an introductory session to set the scene, engaging participants and ensuring a common understanding of the basic principles. This can be done using fun ways such as quizzes, surveys, games – which can be used in online, physical or hybrid situations. We have made good experiences with Kahoot! and Mentimeter but there are lots of similar tools out there. For the trainings we developed in Step Change, we alternated short theoretical input presentations with related exercises. What participants liked a lot were sessions where they could work on specific tasks, applying the theoretical knowledge previously gained. In our case the CSIs worked on topics we identified in bilateral interviews as training needs. Avoiding traditional trainer-centred teaching is crucial in order to keep up the interest and engagement of most participants, definitely those from a non-tertiary background. The famous quote by Benjamin Franklin below puts scientific findings from learning research in a nutshell. People need to get emotionally involved. And if they are emotionally involved, chances are also much higher they stick to the citizen science initiative.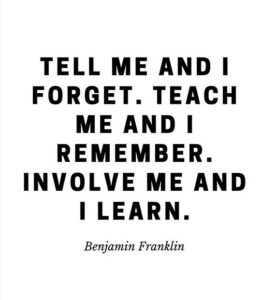 You are leading the training and mutual learning activities for Step Change, and you recently compiled a targeted training scheme to address the needs of the Citizen Science Initiatives (CSIs). Which were the main knowledge gaps that you had to fill?
I would rather not speak of knowledge gaps but existing unconscious biases. The people involved in the implementation of the CSIs within Step Change have a similar background in the sense as they are trained researchers with higher education albeit in different fields. Humans tend to live and work in a bubble of similar people and due to the daily routine of reading and writing scientific papers, researchers sometimes have difficulties to take into account the needs of people from a different background – be it with regard to education, culture or socio-economic background. Awareness rising exercises such as working with "personas" helped to explore target groups and their different needs when it comes to communication (language, channels etc.), training and also logistics (meeting hours, child care etc.). There was the wish, however, to learn more about targeted communication, as this is a cross-cutting issue from initial outreach to retention and dissemination to a wider (lay) audience. The trainings covered the following themes: the Citizen Science process in general; recruitment and retention of citizen scientists; internal and external communication; storytelling and open issues. Other training needs such as ethical issues will be tackled in another format, the mutual learning activities.
During the training sessions, you presented the concept of persona. Could you please tell us more and explain why this concept would be relevant to anybody planning to set up a Citizen Science project?
In the early 1980s, American software designer Alan Cooper developed the concept of personas as a practical interaction design tool to depict groups of people, avoiding the biases and assumptions we all have when addressing others with our work. The persona concept became popular in recent years in the context of Design Thinking and Service Design and is widely used by companies of all sizes as well as in project work. Personas are archetypes (models) that represent groups of real people who have similar attributes. A persona is depicted as a specific person with biographic details and personality, motivations and frustrations, but is not a real individual. Personas are not fake participants/citizen scientists, nor stereotypes, average participants or roles. Especially, when you don't have members of target group in your team, it is good to explore their specific interests and needs in such a way. Personas prevent self-referential thinking and help to implement the right features to the right people in the right way.
Communication, both internal and external, appeared to be as one of the most challenging issues to be tackled by CSI teams. Which were the aspects that you decided to focus on during your training, considering that communication is such an extensive topic?
Effective and engaging communication between laypeople and professional scientists is one of the main challenges AND at the same time key success factors for each citizen science project. Good and effective communication means that people have listened to, understood and acted upon your messages. In our trainings, we tried to bring across the key message that good and effective communication goes beyond one-way diffusion of information. Whether communicating online, through printed media or face-to-face: the language you use – its terminology, tone and complexity – matters. In order to be able to communicate effectively, you have to know your audience. Good communication always takes into account to whom a message is addressed and what this person or group needs in order to be able to take up the information in the way the sender intends. Communication is about try and error – be prepared to be flexible, adapt and change channels, formats and approaches, if necessary. Sometimes one tries to find the jack-of-all-trades, but this just does not work. There is no one-fits-all solution. It is essential to know your audience and its needs in order to build effective communication strategies.