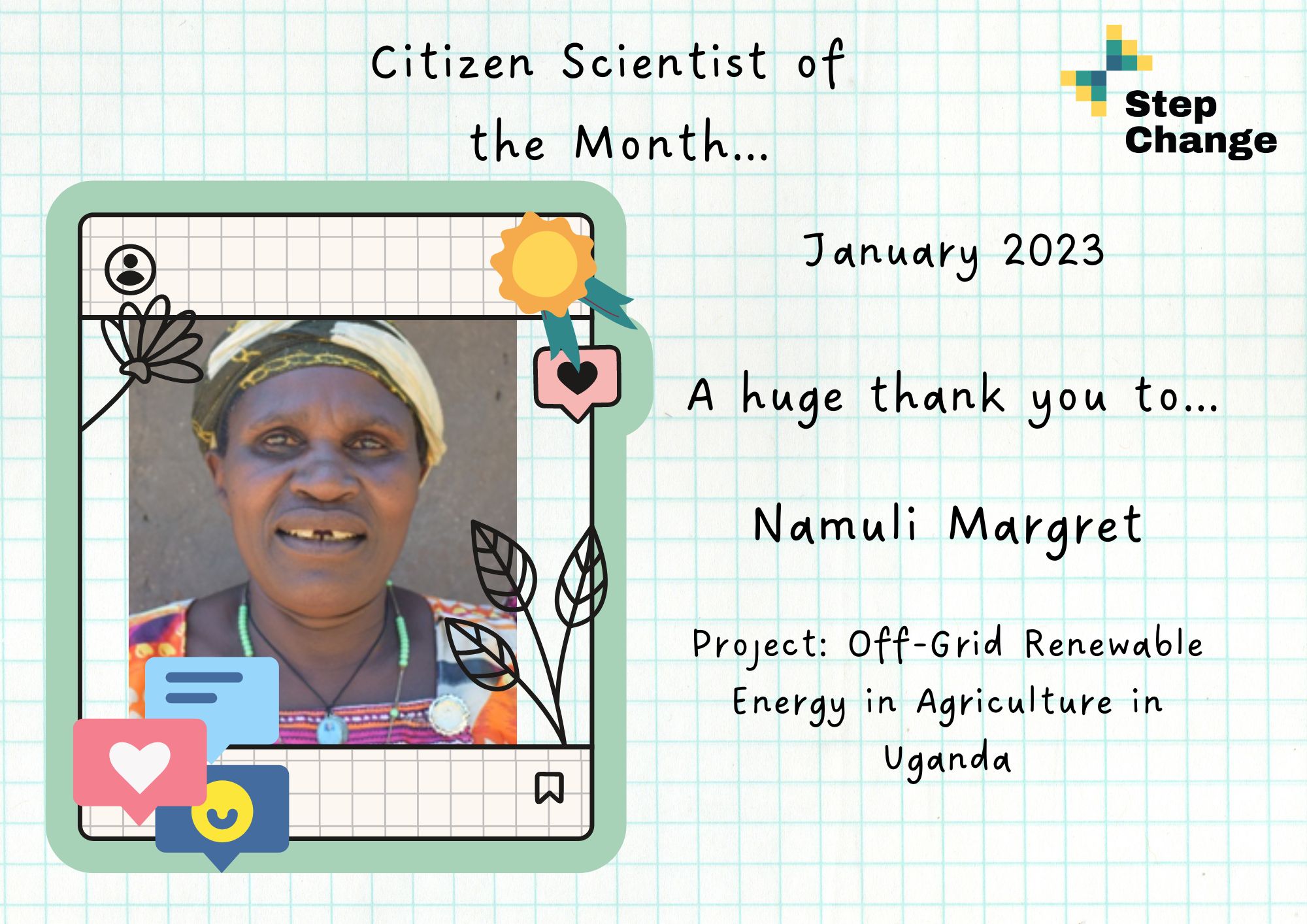 As we enter a brand new year, all of us at the Step Change project have so many more fantastic Citizen Scientists to share with you!
So we start off with January's Citizen Scientist of the month, Namuli Margret, who has been working very closely with our partners at the Action for Rural Women's Empowerment (ARUWE) in Uganda on our Off-Grid Renewable Energy in Agriculture project.

A little more about Namuli …
Where am I from: Kisuutwa village, Gayaza sub-county, Kyankwanzi district.
Role within the CSI:  Green energy ambassador -Promoting the use of renewable technologies in agriculture and households.
Areas of interest: Training fellow farmers in renewable energy use, farming and providing leadership in a Gayaza Women's cooperative
My science role model: Dr. Emma Naluyima, an agricultural trainer, and a farmer who promotes renewable energy.
My biggest dream: Training the whole world about the benefits of renewable energy so that we have a climate-smart environment.
My favourite recipe: Chicken, Nakati (a regional vegetable, also known as bitter tomato, Ethiopian eggplant), and Plantain.
Why did you decide to take part in this initiative on Off-Grid Renewable Energy in Agriculture?
"Women are the most challenged in the family, with a lot of responsibilities and household roles, such as growing and preparing food, searching for firewood, taking care of children, and working in the fields for an income to cater to all social needs at home, which makes them completely overwhelmed.
With all these tasks at a household level, women are deprived of enough time to rest and participate in other socio-economic development processes. Due to these challenges, I decided to engage in promoting renewable energy to empower women in a cooperative society, to use renewable energy technologies to protect our environment, boost our agricultural production, and increase our income.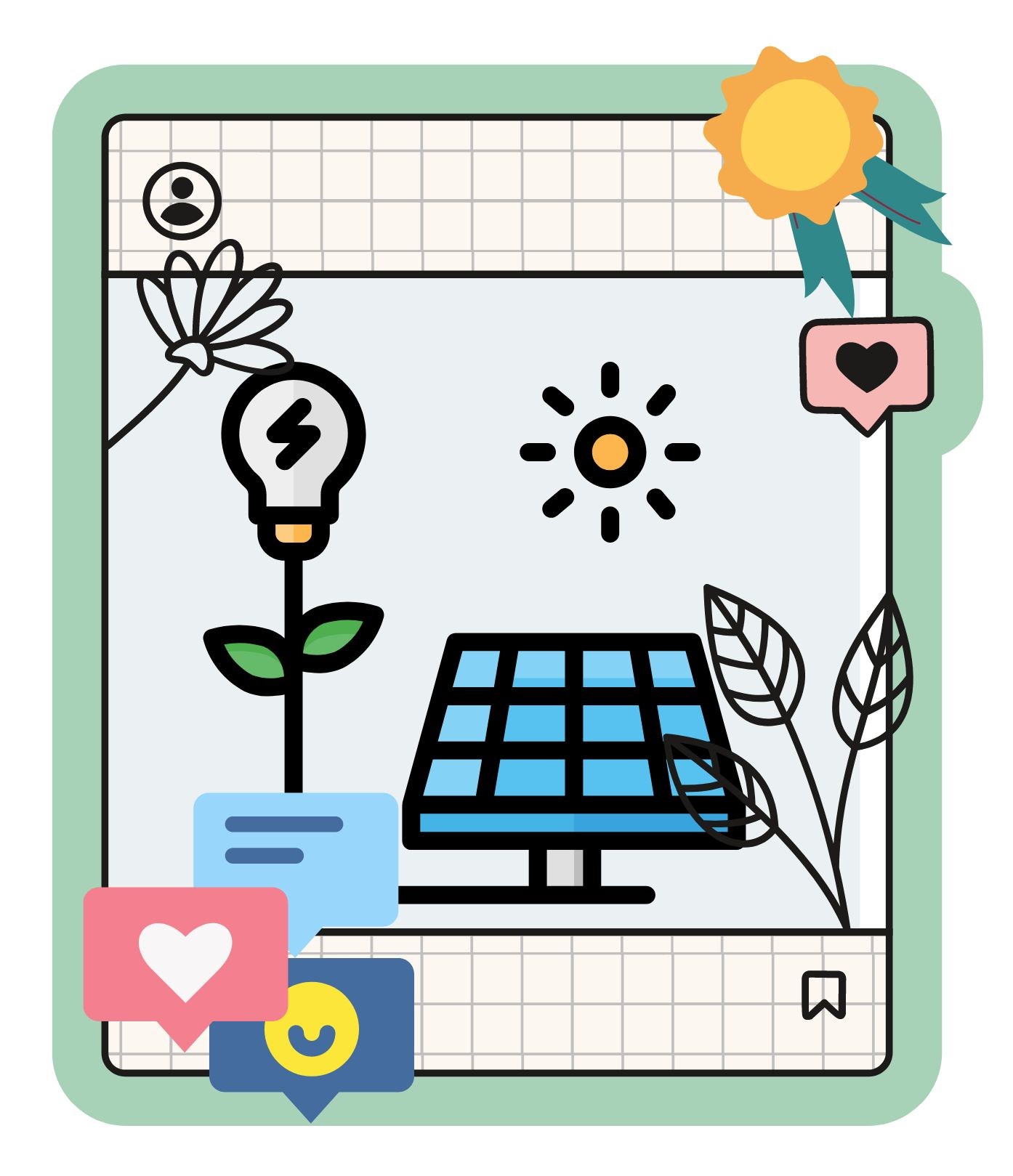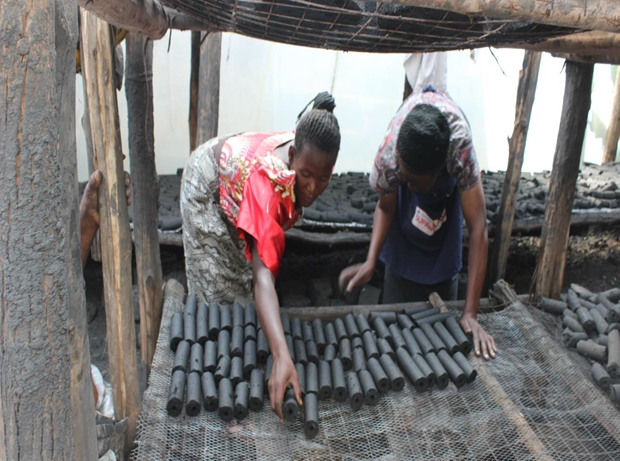 Renewable energy would also cut household expenditures, by using available resources such as plant materials in making briquettes and the use of cow dung in making biogas for light and cooking, instead of paraffin.
The training received from ARUWE about the advantages of using renewable energy, the alternatives renewable energy technologies, the skills acquired to create them, and training helped me so much and inspired me to engage in the promotion of this initiative."
What did you know about Citizen Science before you started working for StepChange?
"I have previously taken part in activities to help preserve nature, such as the renewable energy training and research programs organized by ARUWE.
Through these ARUWE research programs, I was able to learn more about citizen scientist initiatives which inspired me to promote them among my fellow women. I am now an ambassador for green energy technologies.
ARUWE has been involving us in gathering evidence, data, and information on different issues related to the project, as well as monitoring and evaluating project progress and impact.
I was part of the people who benefited from a previous ARUWE project, supporting the use of green energy, creating awareness, and promoting the use of renewable technologies; such as briquettes, solar, biogas and energy cooking stoves.
I was able to set up a biogas system in my home as well as adopt the use of briquettes as a source of fuel. I was also trained to become a trainer for these technologies and have been training different women groups about renewable technologies.
Would you participate again in such an initiative, and if so why?
"Definitely! I have to continue participating because this initiative has changed my life in terms of health, income, and social status.
Such initiatives have helped to provide local decision-makers with the information needed to design appropriate programs for us. The evidence and data we have shared have influenced policy reviews, and we have started to see gender-sensitive policies being made.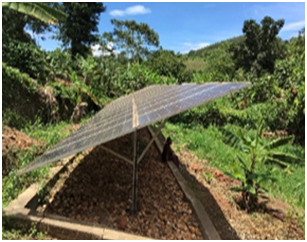 I used to buy paraffin for cooking in my household, but by shifting to renewable alternatives, such as biogas and briquettes, these costs have been reduced, and I no longer face smoke-related problems when cooking at home.
As well as this, the use of slurry fertilizer has increased the production of my crops, especially maize, coffee, and banana.
Therefore I am determined to continue training my fellow women in my community, and the whole world about the benefits of using Renewable energy. Our climate has been greatly affected by the effects of environmental degradation, which has had a very negative effect on the rainfall patterns in our community, which solely depend on agriculture. I would gladly participate in a similar initiative, so I can sensitize and train more people in my community to adopt the use of climate-smart technologies and to promote a healthier and more friendly environment.
A huge thank you again to Namuli Margret for sharing their experience of working with the StepChange project, and for the great work she is doing to share the benefits of renewable energy with her community!
See you in February for our next Citizen Scientist of the Month.
Do you want to learn more about our Off-Grid Renewable Energy in Agriculture
project or join our Ugandan Citizen Science Initiative? Do not hesitate to reach out to us and send us a message via the form below. A member of our research team will get in touch with you. Or click here for more information.