On 5 July the NIHR Oxford and Oxford Health BRCs held a joint Open Day to showcase the research they support, how it benefits NHS patients and how patients and members of the public can get involved in clinical trials.
Hundreds of members of the public attended the event to find out about the latest healthcare research. The Main Hall at the Oxford Town Hall was transformed into an exhibition space with interactive stands, where researchers could explain their work in a hands-on way. The stands covered topics as diverse as genomics, obesity, cardiovascular health breathlessness and virtual reality therapy for mental health.
Dr Sarwar Shah presented our Step Change citizen science initiative on Non- Alcoholic Fatty Liver Disease (NAFLD) and Lifestyle and Weight Loss Intervention.
The NIHR Oxford BRC together with the Oxford Centre for Diabetes, Endocrinology and Metabolism at the Radcliff Department of Medicine of the University of Oxford conducts research on the role of steroid hormones and their metabolism in the development, assessment and treatment of metabolic diseases including NAFLD. In this framework, a translational research experiment in the metabolic endocrinology field will be carried out via a citizen science approach. The main objective of the Initiative is developing a better understanding of the diurnal variation of hepatic lipid metabolism in overweight patients in different types of conditions, before and after a lifestyle intervention comprising a weight loss program as well.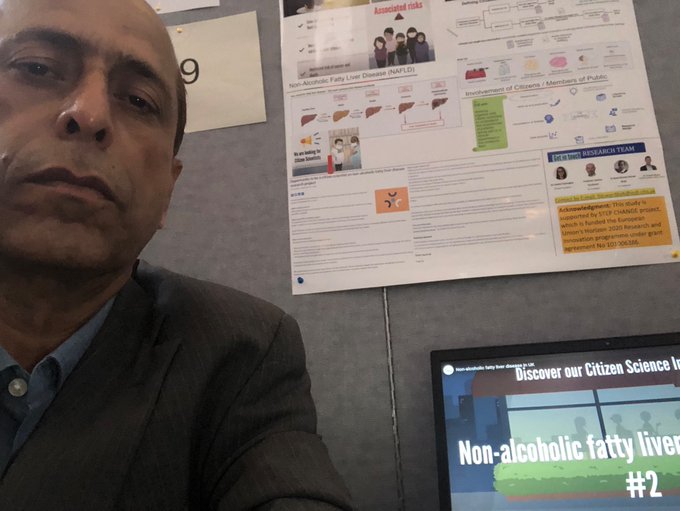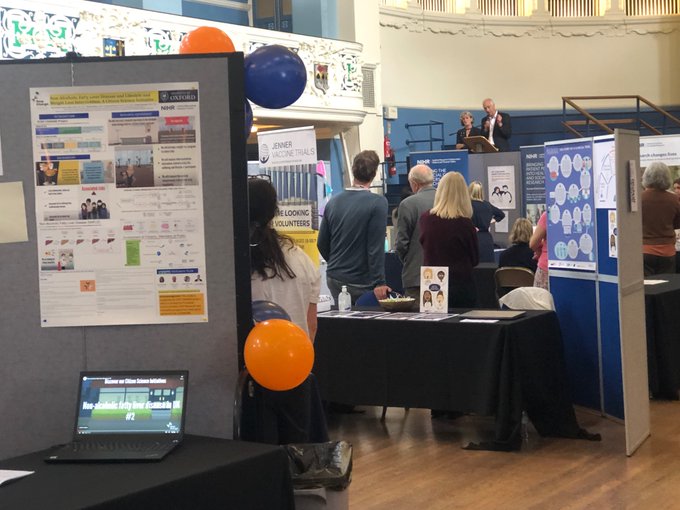 This research is particularly relevant nowadays because obesity and diabetes type 2 have reached at epidemic levels in many countries in Europe and beyond, and the global prevalence of non-alcoholic fatty liver disease (currently 25%) is increasing (*)
Data collected will be integrated with other qualitative information related to daily life, well-being, and lifestyles of the participants. This will allow comparing the bio-medical measurements with patient daily experiences and with other forms of socio-cultural stress they are exposed to. This way the Step Change project will contribute to develop new screening tools and novel interventions with the ultimate aim of improving patient care.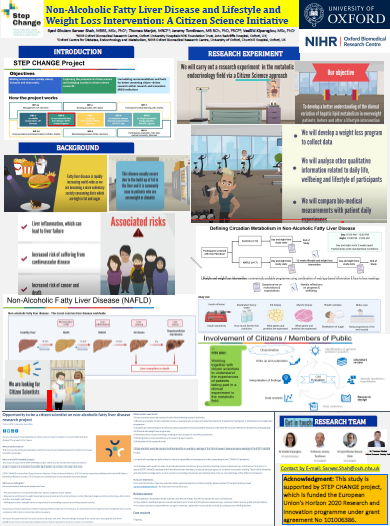 Members of the public are invited to participate in the project and become citizen scientists
We are looking for people who have….
personal interest in non-alcoholic fatty liver disease, diabetes, and/or obesity.
experience and interest in weight loss programmes, physical activity interventions, or other lifestyle changes and interventions (e.g., diet control, nutrition, and health and fitness).
willingness to learn and gain hands-on experience in undertaking research
We are looking for people from varied socio-demographic and ethnic backgrounds. Citizen scientists can be patients, carers, professionals, or any other member of the public. No previous research experience needed. Training will be provided where necessary.
If you are interested or have any questions about volunteering to be a citizen scientist, see more info here and please contact Dr Sarwar Shah via email: sarwar.shah@ouh.nhs.uk – he would love to hear from you.
---
(*) Sources:
WHO warns of worsening obesity 'epidemic' in Europe | | UN News
Non-alcoholic Fatty Liver Disease: Current Global Burden – PubMed (nih.gov)